Most popular public day trips
Antibes
Image © Justin Sawyer www.sunnydaysnice.com
Gourdon
Image © Office de Tourisme de Gourdon www.gourdon06.fr
Monaco
Image: www.commons.wikimedia.org
Eze
Image © Office de Tourisme d'Eze www.eze-tourisme.com
Cannes
Image © Nice Matin www.nicematin.com
Tourrettes-sur-Loup
Image © Office de Tourisme de Tourrettes-sur-Loup www.tourrettessurloup.com
Monte-Carlo
Image © Wallpapers Cave www.wallpapercave.com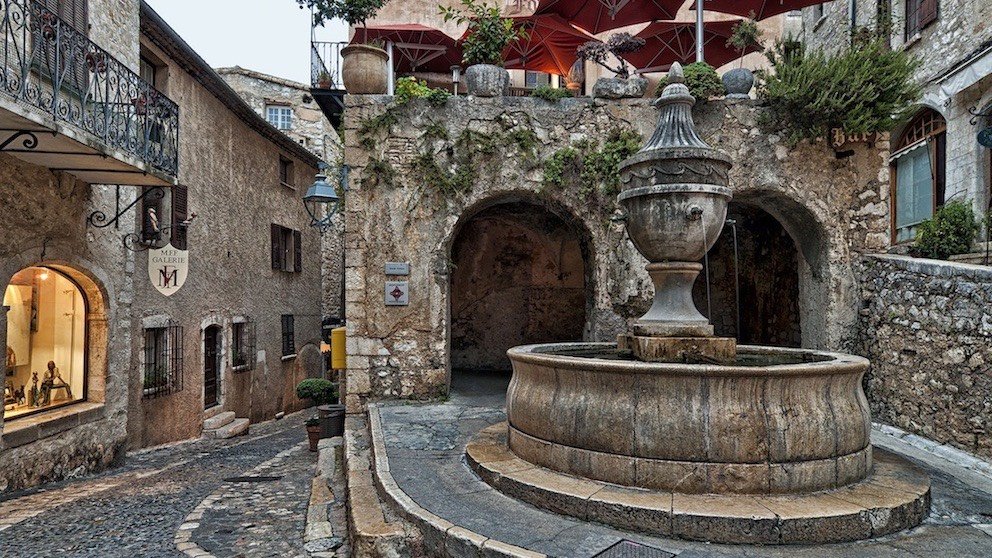 St-Paul-de-Vence
Image © Office de Tourisme de St-Paul-de-Vence www.saint-pauldevence.com

Whether you're a couple, a family or part of a large group, SUNNYdays Prestige Travel can help you find the answers to your touring needs during your time on the Côte d'Azur.

SUNNYdays Prestige Travel is the specialist for personalised tours, being established since 1997. Indeed, we are the first tour and sightseeing company in Nice. With all our years of experience, we can guarantee you the perfect trip, whatever your needs.

There are so many fabulous things to see and do on the Côte d'Azur, whether it's VIP shopping in the glamorous boutiques of Cannes or Monaco, visiting the mediaeval villages, or enjoying the beauty of Nice, birthplace of the Modern Art movement. But there are also many hidden locations, unknown to all but the most knowledgable of people.

You, the discerning traveller, are sure to want to know more about these places!

While you may have your own itinerary in mind, SUNNYdays can offer suggestions about certain not to be missed sights, according to where you're staying.

Wherever you're staying in the South East of France, whether it be in or around Nice, Monaco or Cannes, SUNNYdays Prestige Travel is available for your private tour needs.
SUNNYdays are also able to propose something more unique, more romantic… We are the only company here on the Côte d'Azur able to offer tours in a vintage Citroën Traction dating from 1953. Only 14 of these vintage cars were ever made…!
Tours are priced based on the duration of the tour. Please state when enquiring the length of time desired, and please note a supplement will be applied for any additional time.

If you or your group have special requirements, such as wheelchair access, please notify us: we can only provide for special requirements by prior request.
BANNER: Fleet: Justin Sawyer: http://www.sunnydaysnice.com

SLIDESHOW: Gourdon Village: Office de Tourisme de Gourdon; http://www.gourdon06.fr. Eze Church & Panorama: Office de Tourisme d'Eze; http://www.eze-tourisme.com. Russian Orthodox Church, Nice: http://www.panoramio.com (http://www.google.com). La Rotonde, AIix-en-Provence: Christophe Anziani; http://christophe-anziani.eklablog.com. Château du Font du Broc: http://www.chateau-fontdubroc.com. Arènes de Cimiez, Nice: https://commons.wikimedia.org. Le Grand Casino, Monte-Carlo, Monaco: Office de Tourisme de Monaco; http://www.visitmonaco.com. Chapelle des Penitents Blancs, Vence: Office de Tourisme de Vence; http://www.vence-tourisme.com. ROTHSCHILD: ; . Cours Saleya, Nice: http://myniceapartment.com. Panorama of Monaco: https://commons.wikimedia.org. Menton: http://kingofwallpapers.com. ST MARTIN: ; . Tourrettes-sur-Loup: http://www.tourrettessurloup.com. St-Paul-de-Vence: http://www.saint-pauldevence.com. Port Grimaud: https://suitcasemag.com. Night Panorama of Monaco: http://wallpaperrs.com. Grasse: http://uk.france.fr. Saint Tropez: https://commons.wikimedia.org. Cannes Palais des Festivals: http://www.hotel-plm.com

ALL OTHER IMAGES: Justin Sawyer: http://www.sunnydaysnice.com
BANNER:
Fleet: Justin Sawyer: http://www.sunnydaysnice.com

ORGANISATION:
Travel Agency

SERVICE / CATALOGUE:
Private Tours / Leaving From Monaco / Leaving From Nice / Leaving From Cannes

OFFER:
A Day In Provence / St. Tropez and Port Grimaud / Verdon Gorge and Lavender Fields
x
We use cookies to ensure that we give you the best experience on our website. If you continue without changing your settings, we'll assume that you are happy to receive all cookies from this website. If you would like to see which cookies we use, you may do so by clicking here

Private tours of the French Riviera